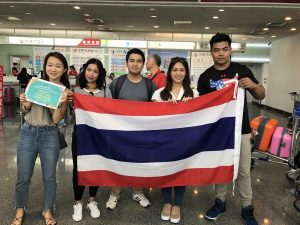 The four International Business (IB) of RMUTP students studied at Shih Chien University, Taipei, Taiwan in a short-term exchange program.
The 14-day summer program, which began Aug. 6, 2017, includes tours of Shih Chien University, Taipei, and attractions like Chiang Kai‑shek Memorial Hall, National Palace Museum and Shilin Night Market.
Ms.Satreerat Thamtong is an IB student visiting the Taipei for the first time in her life. "I want to get to know the differences between the Thai education system and the Taiwan one," Satreerat said. "I am considering coming to the Taiwan for a postgraduate program."
Ms.Satreerat is one of four IB students coming to the Taiwan with the short-term exchange program. The program has been subsidized by the Faculty of Business of Administration, International Business Department.
Asst. Prof Patcharinporn Phuapisit is a Vice-Dean for Academic Affairs and Research. She said that while 14 days may not be enough time for students to learn Mandarin Chinese, it is plenty of time for them to get a glimpse of Taiwan culture.
"14 days is enough time for them to learn about Taiwan culture and see how people do things here compared to Thailand." Patcharinporn said.
Some students have already begun to learn about the Taiwan way of life, especially when it comes to food.
"There is a wide variety of Chinese food here," said Ms.Karn Nacapol, an IB student "It is the first thing I noticed when I arrived, but I'm excited to see the diversity of the country and hear people speaking in both English and Mandarin Chinese."