From 24 to 26 January 2018, the International Business (IB) Department at RMUTP under the direction of Dr. Rattanavalee Maisak had the great honor to welcome Prof. Dr. Jay K. Rosengard from the Harvard Kennedy School.
Prof. Dr. Rosengard lectured on Global Finance, focussing on ASEAN with case studies about Indonesia and Vietnam. The 3rd year students of the IB Department enjoyed the well structured, interesting, lively and real-life oriented lectures from the visiting Professor from the United States.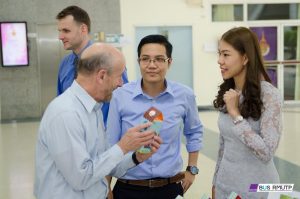 Aj.Sirikarn and Mr.Holger, who are IB lecturers, also joined and supported students in the class. The students took this extraordinary chance to gain valuable economic knowledge. Especially, Dr. Rosengard's in-depth knowledge of the economies inside ASEAN and his strong focus on economic competitiveness and inequality impressed the students and broadened their minds.
The International Business Department at RMUTP is already looking forward to welcoming Prof. Dr. Rosengard again next year.