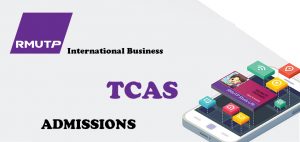 The International Business academic calendar is based on a system of two semesters – the 1st (June-October) and the 2nd (November-February) – each running for 15 weeks. There is a brief summer session in May.
The Rmutp has launched new university admissions system called Thai University Central Admission System (TCAS), which will take effect from the 2018 academic year. Under the new system, high school students will be given five rounds in which to compete for university seats.
When to apply
| Rounds | Exam Date |
| --- | --- |
| Portfolios | |
| Quota | |
| Joint direct admission | |
| Independent direct admission | |
Requirement
Our courses have minimum entry requirements, including English competency and qualifying secondary school results. A Certificate or Diploma that meets Thai standards may also be considered, as may a completed or partially completed an undergraduate or higher degree.
Who can apply
Applicants with any of the following qualifications are eligible to apply:
High School or grade 12 graduation diploma

Other equivalent certificates or diploma, as authorized by the Ministry of Education
Remark: ** Other equivalent high school certificates or diplomas must be translated to English and issued or certified by their own government's Ministry of Education, Foreign Ministry, or Embassy or issued in English by their graduated school confirming that graduates of these programs are eligible to apply to regular full-time programs worldwide
How to apply
a. Walk-in application
Submit documents and application fee at the Admission Office, International Business from 8.00 a.m. – 4.00 p.m. (Applicants must wear school uniform or be formally dressed)
b. Mail
– Submit documents to
Admissions Office, Faculty of Business Administration, Rajamangala University of Technology Phra Nakhon, Room L304, 86 Phitsanulok Rd, Suan Chitlada, Dusit, Bangkok 10300 Thailand
c. Email
– rattanavalee.m@rmutp.ac.th
Remark: Applicants must show their Thai ID Card or passport on examination date. Otherwise, they are not allowed to take the examination.