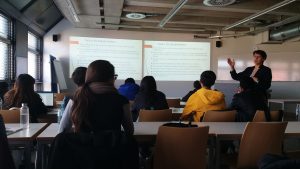 With support from the Faculty of Business Administration, International Business (IB) Department, sent the exchange students to Germany one semester to pursue studies. The students received scholarships through the IB Student Exchange Program, which enables enroll at one of RMUTP's partner universities.
Mr.Tawan Chiamchit and Mr.Thanapol Tupmongkol, IB students, studied at FHWS University, Wurzburg, Germany for one semester (1/2017).
"I was taking a total of about six classes with FHWS students for one semester. I joined because I had the chance to thoroughly experience the culture of the host country. I also wanted to maintain my English skills while in Germany. I enjoy interacting with friends from the circle, talking in German, going on training camps, and so on. I also traveled to other countries such the Czech Republic and Italy. I had an enjoyable experience spending on weekend at a park, having a barbecue and talking with friends, going on walks, etc." Mr.Thanapol said.
Dr.Rattanavalee is Head of IB department. She said that every year the IB department encourages and supports students interested in participating in an overseas study experience as part of their university degree with a wide range of financial assistance available and over 100 Partner Institutes across 30 countries.
Mr.Tawan would like to recommend young IB students to participate in the Exchange Program.
"Germany is an excellent country to study in. It is because life here is safe. I am enjoying my life here as an exchange student. I think that before coming to Germany, you should plan things like what kind of classes you will take at the university, what kind of exchange programs you will participate in and where you want to visit in European countries. I think that by doing that you will be able to spend an even richer life as a foreign student"